Jan 11, 2019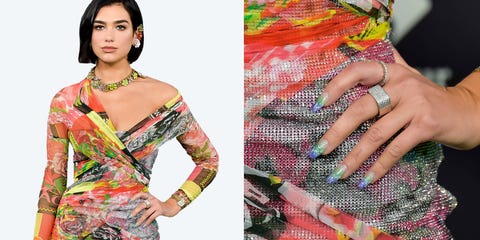 Getty Images
2019 is all about reinventing yourself. Get that drastic hair cut! Invest in quality beauty products! Hit the nail salon for the manicure of your dreams! It's your year baby! Michelle Humphrey, nail artist behind Dua Lipa, Lorde, and Rita Ora's coolest nail designs, is here to help you with the last one. We asked Humphrey to share a few predictions around which manicure trends will be big in 2019. From mustard manis to jelly finishes, 2019 is about to be your nail's coolest year yet.
Advertisement – Continue Reading Below
1
Are You Ready for This Jelly?
The vibe: "Think lollipop and gummy bear tones," says Humphrey. The look can transition into spring and summer with milky-toned shades, sheer glitters, and matte finishes.
How to get the look: Use the Glass Collection by Indigo Nails ."The colors are already sheer and ready to go," says Humphrey. Mix your chosen color with a clear polish to create a custom shade.
2
Holy Holochrome
The vibe: 2018 was the year chrome and holographic nails took over Instagram. "This year you can combine both!!," explains Humphrey. "Nails that appear to be chrome from a distance, but are holographic under spotlight."
How to get the look: Humphrey created the holochrome trend on Dua Lipa by using a base chrome shade, then polished with a sparkly topcoat.
3
1999 Ethereal
The vibe: "Delicate sheer iridescent manicures will have a place this year," according to Humphrey. "Think super-fine subtle glitters, not chunky or opaque. We want to see the nail plate underneath."
How to get the look: Add small jewels or nail stickers to the natural nail.
4
Crystal Clear
The vibe: Transparent nail extensions will be a major hit this year. "If you're planning on getting a full set, get them with clear tips finished off with a high gloss," says Humphrey. "Super cool and modern, it also looks amazing with negative space nail art or can be combined with the jelly trend for the extra wow factor."
How to get the look: An appointment at the salon is a must when it comes to nail extensions.
5
Mustard Mani
The vibe: "Yellow is probably one of the most feared manicure shades," says Humphrey. "If you're nervous but still want to try it, tone down a yellow by opting for a softer mustard tone."
How to get the look: Just grab your favorite yellow and start! Humphrey's recommends finishing with a matte top coat.
Advertisement – Continue Reading Below
#nailart
Original Article Source
---
Recommended Nail Art Products